PRINCIPAL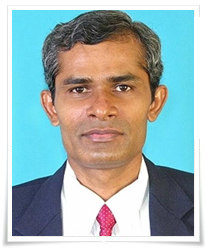 Dr.R.V.Mahendra Gowda,
M.Tech., Ph.D. (IITD),
Principal
principal@mahendra.info
Mahendra Gowda R V obtained Ph.D. in the area of Friction in materials from IIT Delhi in 2001. Prior to that he wrote the competitive examination GATE in 1995 and secured 95.37 percentile score with an All India Rank of 10. He has two years of experience in industrial research and around 17 years of experience in teaching, out of which he worked as Principal of prominent Engineering Colleges for nearly 11 years. He has successfully completed 6 research and funded projects of worth Rs.66.24 Lakhs. He guided two research scholars leading to the award of PhD and two are currently pursuing. He published 28 research papers in Journals and 24 papers in Conferences. He has authored two books and two book chapters, and has nearly 130 citations of his publications with
H index
of 7 and
i10 index
of 5. His research interests include friction in materials, innovation in engineering education, use of TQM tools to improve the process quality in engineering education, frames of mind, education 4.o, etc. He is a life member of ISTE and other professional societies, and reviewer for online journals, namely IJFTR, JIT, RJTA. He is the recipient of Rashtriya Vidya Sarawati Puraskar and Rajiv Gandhi Excellence award. He has passion for training the faculty members and motivating the students to excel in academics and career. Currently he is the Principal of Mahendra Engineering College (Autonomous).
Message
Greetings and best wishes!
Mahendra Engineering College was established in 1995 by our visionary Chairman Shri M.G.Bharathkumar, a renowned educationist and a philanthropist and the Secretary of Mahendra Educational Trust Tmt. Valliyammal Bharath Kumar, a best teacher awardee, who successfully run nearly 16 educational institutions with the noble intent of educating the underprivileged in Salem, Namakkal and other districts. All our institutions are professionally managed by our young and dynamic Managing Directors, Thiru Ba. Mahendhiran and Thiru B. Maha Ajay Prasath, who are successful engineers, having extensive corporate tie-ups and always aspire to provide world-class education to the youth with the most modern facilities. Our College is an Autonomous Institution offering 11 Undergraduate and 9 Postgraduate courses in Engineering, Technology and Management. We have started 3 new UG courses this year, namely Chemical Engineering, Food Technology and Pharmaceutical Engineering to cater to the growing needs of the industry. The College has a state-of-the-art infrastructure with flexible CBCS to promote student-centric learning. The Institute has 12 Centres of Excellence with outstanding industry-institute interaction to train the students on emerging technologies of Industry 4.o using Education 4.o concepts. Our dedicated and extremely committed faculty members impart up-to-date technical know-how using innovative practices and learning techniques blended with industry based electives. The campus has a host of modern facilities for training the youth in 360° learning frame-work to facilitate them for careers in IT, core engineering, Government sector, civil services, and other frontiers. Hence our College has an excellent placement record over the years and many of our Alumni are in prominent positions across India and Globe. I invite the young aspirants from various parts of the state and the nation to join the Mahendra educational family and experience the best in technical education to get transformed into employable engineers, technocrats and prospective entrepreneurs to lead happy life.